Please sponsor a student in Lakeshore's Walk-a-Thon. Your donation will help Lakeshore Elementary provide the valuable enrichment programs that enhance education, including Motor Perception, gardening, poetry, and studio art. Donations are tax-deductible and you will receive a receipt with Lakeshore's tax ID number.
Thank you for your support!
About the Walk-a-Thon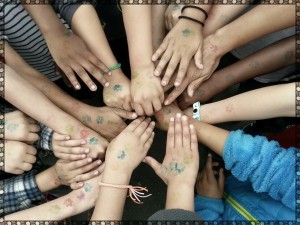 Students walk for 45 minutes around the track at Lakeshore Elementary. Along they way, they get their hands stamped for every lap, zip through a wall of bubbles, rehydrate with cups of water, and get refreshed with sprayed mist! The event ends with a cool treat of popsicles.
The Walk-a-Thon is run by staff and family volunteers. We need you! Sign up to help at http://bit.ly/ls-wat2016 or email volunteer@lakeshoreelementary.org if you can help.
Incentives
There are prizes for fundraising goals, like intake on the roof for reaching $500 school-wide, no homework pass for a week for reaching $1,500, teacher switch for reaching $3,000, all the way up to a Sock Hop party for reaching $20,000!
Other incentives include folders and pencils for all students in the class that raises the most funds, a $50 gift card for the student who raises the most school-wide, and extra recess for the class that raises the most in each grade level. This is an active way to have fun and raise money for the school.
Donate to your student today and help everybody win!