Please support Lakeshore's teachers by donating to Class Funds. While the
PTA
raises money for enrichment programs and community activities,
Class Funds
is different, and goes directly to teachers for supplies, academic materials, books, field trips, and classroom activities.
Help us raise $10,000 to fully fund our promise to Lakeshore's teachers this year! Donations are tax-deductible and you will receive a receipt with Lakeshore's tax ID number.
Thank you for your support!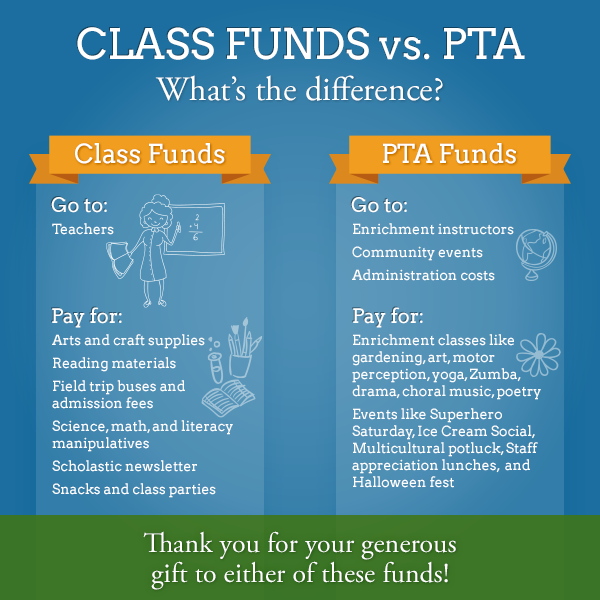 About Class Funds
San Francisco Unified School District is unable to provide many of the materials that teachers need to fully supply their classrooms. Class Funds are important because teachers depend on the donations of families to help provide needed supplies and to fund special programs. A donation of $50 per family is suggested. However, any donation amount is greatly appreciated. Please give whatever you can — no amount is too small! All contributions are tax deductible.
With our help, our children's teachers can continue to provide a wonderful program for our children, which may include:
Arts and crafts supplies
Classroom reading materials
Field trip buses and admission fees
Hands-on science, math and literacy manipulative
Scholastic Newsletter
Snacks and class parties
Class Funds are separate from the PTA general fund which funds enrichment programs for the entire school. Both funds are very important.
To donate online, simply fill out the PayPal form above.
To donate by check, make your check out to "Lakeshore PTA Classroom Funds" and add "Room #____ Class Fund" in the memo portion and give it to your classroom teacher.
Thank you very much for donating what you can!
Sincerely,
Terri Chiaverotti
Class Funds Manager
tchiaverotti@yahoo.com